Bringing it back.
I apologize for the hiatus- my last semester of school just started and time is stretched pretty thin between 17 units of class, track & field season, getting a business going, and applying for internships and grad school. Exciting stuff, but had to push the blog to the side for a while. Now that things are starting to even out I've got some good stuff coming down the line.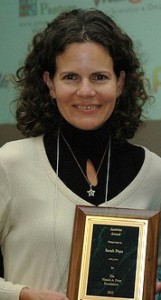 Healthy Home Economist.
In my internet travels I recently came across Sarah's blog
'The Healthy Home Economist'
, and I have to admit I'm very impressed. Her views on nutrition are pretty aligned with the
Weston A. Price Foundation
(A good thing- check out their site if you haven't).
After reading a couple of articles I went through several months of archives reading articles and watching her videos (which are excellent). Sarah covers a variety of topics from nutrition, environmental pollutants, medicine, food politics, exercise, and has several great videos how to do the stuff yourself. Sarah obviously follows her own advice, she is in amazing shape for a 40-something mother of 3 (but who's counting, right?).
My favorite parts of her site are the videos showing how to make fermented foods. A lot of these recipes are from
Nourishing Traditions
, one of my top nutrition and recipe books, but the recipes are far easier after you watch the process in a video.
In case you don't know,
fermented foods
are incredibly important for a variety of reasons that I will cover in depth in future posts such as repopulating intestinal bacteria, displacing bad bacteria, neutralizing plant toxins and more. They are one of the main things that modern people (Americans especially) are severely lacking in our diet.
Here are some of my favorite food videos so far:
Kombucha:
Kefir:
Beet Kvass:
And here are some of my other favorite articles:
Great work Sarah, keep it up.